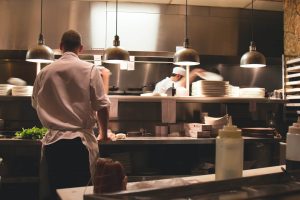 Whether your current chef is moving on, you've opened up another café/restaurant or you've just started the business, here's how to make sure you've got the best chef for the job.
Get the right applicants
The first part of finding a chef is putting out a job ad. There are a few ways you can start getting applications.
• Recruitment agency
If you don't have the time to go through the hiring process or are unsure how to vet applicants, a recruitment agency is a great way to take the task off your hands. You can even find hospitality-specialised agencies. Discuss with your recruiter what type of hire you're looking for and let them source the talent.
• Internal hires
If you've got a senior staff member you trust, who's also eager to move up the cookery ladder, why not consider an internal hire? This way you've got someone who already knows the business, but make sure the rest of your staff have a good relationship with them to avoid unwanted conflict.
• Word of mouth advertising
If you're a local business chances are you've got a decent customer base and community that take on the role of advocates. With this, you can easily gauge interest by speaking with friends, family, existing staff, and customers to get the feelers out there.
• Post a job ad online
It's not necessary for you to outsource an agency to get the best talent, and a lot of hospitality businesses prefer to advertise on their own. Listing sites like Gumtree, indeed, etc. are good places to start, as they're usually the sites that cooks find their work.
Chef interview questions
There are a few basics to ask around their experience, why they're looking for work, career goals, and interests in cooking. Some extra questions that can help you pick the right fit are:
Are there any chefs that you admire? What do you admire most about them?
What is your favourite dish to cook and why?
How would you describe your management style?
What is your proudest moment as a chef?
What qualities make a good chef?
Have you developed menu items in previous roles?
Tell me about a time you had to handle a difficult employee/customer/challenging meal?
Skillset for chefs
When interviewing and assessing resumes, there are a few standard skills you want. References and the right questions can help you determine if the applicant meets these criteria.
Even temperament
Ability to train staff
Standard for quality
Attention to detail
Experience as a chef or leading cook
Taste the food 
There's no point going through a hiring process if you haven't even determined whether your chef's cooking fits well with your business. Allow your potential chefs the chance to showcase their skills, observe how they use tools, handle food, keep the kitchen clean, and their knowledge of the industry.
Prepare your chef for success
Once you've found the right fit, prepare your team to meet the new chef and give them a walkthrough of the current processes within the business. A chef's first few weeks will also help you observe their style of work, how they work with the team and how customers respond to their cooking.
CHT has a range of courses tailored to hospitality skills. These can help you hire cooks internally, upskill staff and ensure you're up-to-date on the industry best practices. For questions contact our team on (03) 9654 1554.