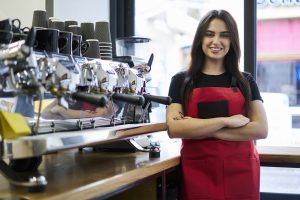 Hospitality thrives on teamwork, energy, customer service, and time management, and with these essential criteria, you want staff that showcases these skills. Not everyone is suited to the nature of bars, restaurants, and cafes, so it's important you know what makes up a great hospitality worker.
Since your staff are the core of your business, these 7 skills will be integral to success.
Teamwork
Hospitality comes with a number of positions and roles, it can also come with an eclectic range of individuals. You might have students using this as a temporary job, aspiring team leads looking to learn the ropes of running a business, and everything in between. The key to working with different people? A focus on teamwork. Some tasks work well as solo jobs, but most hospitality requires staff to work together, and a good employee will get on well with others and commit to collaboration.
Multitasking
There are a lot of moving parts to hospitality, and chances are employees won't be tackling just one task at a time. Serving drinks, speaking to customers, handling food, managing a list of constantly growing orders, without great multitasking skills your staff will struggle. Of course, new staff might not have multitasking down-pat, but they should be able to pick things up quickly and efficiently.
Flexibility
Chances are you don't conform with the 9-5 corporate roster, which means the same for hospitality staff. Not only should employees be able to work outside of business hours, but they also should be willing and able to move around in the store. Someone who can prepare coffees, clean, prepare food, serve customers – a multi-use employee means you've always got someone to rely on.
Attention to detail
When you're handling cash and serving customers there's little room for human error. Good employees will notice the little things, like cash discrepancies, the presentation of food, and work place health and safety risks.
Interpersonal skills 
A large percentage of your customers will return for great customer service, not just for the food. Your staff are advocates for your venue and should bring energy and charisma with each customer interaction. This means open body language, great presentation, and an ability to brighten up anyone's day. It doesn't mean they have to be masters of small-talk, but they should be invested in making customers feel welcome.
Communication 
Customer service will keep business booming, but this won't mean much if the staff doesn't get on. A skilled employee will be able to communicate clearly with their colleagues, but also communicate with care. A good team member will be transparent, clear, and respectful in their communication.
Hazard and safety awareness
Finally, a good hospitality employee knows how to reduce risk and hazard for their safety and the team's and the customer's safety. You'll notice this awareness in the way they approach tasks with WHS risks – are they taking shortcuts for convenience? Or do they adhere to the best practices laid out?
While some skills can be coached, a high-performing worker will have a natural ability to fit well into the business. If you're looking for new team members, keep an eye out for these skills.
CHT has a range of hospitality training for both employees and employers. Secure the skills needed to be an asset to your employer, and upskill your staff for their own advancement. To find out more, contact CHT on (03) 9654 1554.