ahs hospitality increases the quality of service that their corporate customers and their guests are accustomed to through highly customised and contextualised training.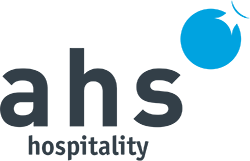 ahs hospitality is Australia's leading hospitality guest services provider for the accommodation industry and has been providing award winning housekeeping services to the Australian hospitality industry since 1993.
Their expertise, professionalism, services, and flexibility provide quality and compliant housekeeping results for almost every hotel brand in the region, servicing a range of hotels from 3 to 5-star, as well as luxury and boutique sites.
https://www.ahshospitality.com.au/
Challenge
ahs hospitality wanted to enhance the leadership and management skills of their managers and supervisors to ensure that they, and their teams, were best equipped to provide quality accommodation services to their corporate customers.
ahs hospitality was seeking a highly customised and contextualised training solution to ensure that over 250 senior housekeeping manager and over 600 trained housekeeping professionals could deliver the highest quality of service with unmatched efficiency.
Key Challenges:
Development of a more skilled, knowledgeable, and engaged workforce through the delivery of specialised training.
Ensuring that those providing accommodation services delivered the quality of service that ahs hospitality's corporate customers and their guests were accustomed to.
Deliver a program that would allow ahs hospitality staff to explore career progression opportunities within the business.
Solution
Complete Hospitality Training (CHT) worked with ahs hospitality to develop a highly customised and contextualised training program that allowed ahs hospitality's managers and supervisors to develop their leadership and management skills which in turn allowed them to better lead and manage their teams to deliver the quality of services that ahs hospitality's clients and guests were accustomed to.
The delivery of the SIT40422 - Certificate IV in Hospitality tailored to senior housekeeping manager and housekeeping professionals provided ahs hospitality's staff with the ability to learn, not just from the information shared with them, but also from the working environment.  This practical, efficient method ensured that learning was focused on actual skills that take place in industry.  The training also ensured that staff not only found confidence but exceled in their roles.
CHT prides itself on delivering high-quality vocational education and training that allows individuals to learn and add meaning to their lives.
Outcomes
The training that CHT provided to ahs hospitality's staff:
Increased the educational engagement of non-English speaking resident migrants.
Created upskilling pathways for team members.
Established future career pathways for future leaders and managers.
Assisted in the coaching and mentoring of team members.
Provided educational pathways for a diverse workforce.
Increased the quality of team leaders and managers; and
Assisted in the reduction in turnover of team members.