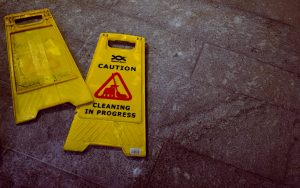 For the safety of yourself, your business, and your staff, it's essential that you keep your health and safety practices a top priority. Here's how to ensure your WHS is set up to reduce risks and protect your employees.
Determine common hazards and risks
In hospitality, some common hazards include:
Handling glassware and broken glass
Cuts and burns preparing food
Heavy lifting and storing
Repetitive physical work
Wet or slippery floors posing a risk of falls
Similarly, poor lighting risking falls
Noise exposure
Hazardous substances like cleaning chemicals
Occupational violence, bullying, sexual harassment, or discrimination
Electrical equipment and appliances
Cross contamination and spread of illness
Carbon dioxide gas
You are required to reduce all health and safety risks present in the workplace, for the safety of customers and staff.
Discuss health and safety with employees
With any induction and update to health and safety practices, you need to make sure staff are well versed in the processes. Similarly, give these staff the responsibility of observing health and safety risks, and logging any injuries, damage or observed hazards and risks.
Risk management processes
Health and safety are constantly changing, Covid-19 being an example of universal adjustments to best practices to prevent the spread of disease. So you should always be reviewing and revising your processes by observing hazards, keeping up-to-date on national guidelines, and monitoring the frequency of existing risks.
Legal duties and obligations
Both employers and employees have legal duties and obligations to ensure the health and safety of all persons working or entering the premises.
For employers
Employers are required to provide and maintain a safe working environment that is free of risks to health. This means ensuring the conduct of the business does not endanger people, that employees have the necessary information and instruction to do their job in a safe way. Employees should also report notifiable incidents to Worksafe.
For employees
All employees must take reasonable care for their health and safety in the workplace and cooperate with their employer about any action to comply with the OHS Act. Employees should also not intentionally interfere with or misuse equipment or items in the workplace that function to support health and safety.
Workplace health and safety is an essential part of best business practices. Ensure you keep a record of all past incidents, provision regular inspection, and hold management meetings to review health and safety activities. If you are unsure about your obligations and duties, you can find information on WorkSafe.
CHT provides hospitality-specific training for managers and staff, including courses for infection control, food handling, responsible service of alcohol (RSA) and more. Contact the team on (03) 9654 1554 to enquire about enrolment and availability.