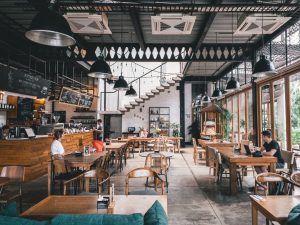 From local eateries to reputable franchises, there comes a time when you will ask yourself, what's the next step? Hospitality is ever-changing, and with the right strategy, you can change with it. Here's how you can take our restaurant to the next level, and see success in doing so.
Introduce new products and services
When's the last time you updated your menu? While it's good to have dishes you're known for, try to create some hype for a new dish. Do some research on trending dishes and add your own flair to it. Or think completely out of the box and look into something new, that can be exclusive to your restaurant.
Get online, take advantage of apps
If you haven't already done it, sign up to your socials, organise plans for delivery options and explore where you're falling behind. Today it's more than just the dining experience – it's a business's reputation and image as a whole, so get your name out there.
Look at your marketing strategies
You may have seen successes through the traditional word of mouth and repeat locals, but if you want to further your restaurant's reach you will need to start building a strategy. A huge portion of engagement will come from your digital strategy, but you should be pairing that off with promotions in-house. Your options for marketing are:
Do it yourself
Hire in-house marketing
Outsource marketing
Work with your staff
Are you leveraging the creative talents and ideas of your team? If not, it's time to start getting their input. Try out brainstorming exercises to encourage teamwork and motivate the staff. You never know what you'll come up with.
Innovate with the times
Stand out from the crowd of hospitality businesses by exploring innovative ways to bring in more customers. Consider the impact of digital on restaurants, what pain points you've yet to resolve, and what creative difference do you bring. Try brainstorming innovation by starting with a few questions for the team.
What does "good enough" look like to you?
What does "disruption" look like?
What problems are still unresolved?
What do your customers say?
What makes you unique?
Explore new ways to expand
Today, there are so many ways you can get your food out there. In fact, a lot of businesses can find success exclusively serving food in alternate avenues. Food trucks give you the chance to transport your menu across a multitude of avenues, and corporate catering & partnerships can give you a foot in the door of business opportunities. You can even mix your restaurant up with tasting rooms, trial pop-ups or host exclusive special events to create some buzz around your name.
CHT offers hospitality training and certification that can help upskill staff and prepare your business for new growth. Our hospitality management course shows you the ropes of leading a high performing team. For more information on our courses contact the team on (03) 9654 1554.