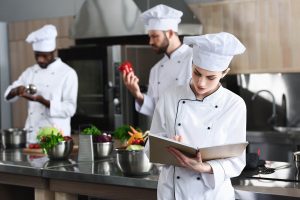 Whether you're handling the accounts, out of the office for leave, or looking to expand your business, you can't always be in the venue managing the day-to-day. So how do you ensure your peace of mind that the managerial duties are still getting on?
You've likely pinpointed some talent you don't want to lose, perhaps an employee who's taken on extra duties, who is a high performer, or who's taken on leadership roles already. And while hiring a manager outside of the business can ensure a level of leadership experience, an internal hire already knows the business. Plus, you give hard workers recognition and growth opportunities to keep them motivated.
So how do you train up a new team lead to handle hospitality duties when you're not in?
Delegate or do yourself
So you know you need someone to take on management with you, but do you know what tasks you want them to take on? How will you delegate tasks that you usually take on yourself? Don't leave your new team lead with nothing to do, but don't overwhelm them with all your responsibilities either. Try writing a list down of all your duties and separating them into the tasks you need to do, and the tasks you're happy to delegate.
Care and passion
Ideally, a team lead cares about the success of the team and of the business and shows this by going above and beyond. If you've got a specific issue or task you've been looking into, instead let your team lead solve the problem. How do they approach it? Some tasks that could show care for people and the job could be taking on customer complaints, coming up with ideas for new promotions and marketing, working with a junior team member or handling the budget for period of time.
Employees and team culture
One element of management is the responsibilities and behaviours of the rest of the team. It's good to keep a team lead up to speed on common themes or issues with staff, as well as to give them a chance to play the manager role before stepping into it. How does the team feel about your team lead? How do they manage issues and how do they provide feedback to the team? It's more than just keeping the shop open, it's about building a more effective and high performing team.
The admin duties
It might not be the most exciting of tasks, but your team lead needs to be well versed in all of the administrative duties so nothing is missed. Budgeting, bookkeeping, rostering, etc. Give the team lead a chance to run it by themselves with your support – and make sure that you both are confident and comfortable with the process before leaving them to tackle it on their own.
Leadership training
So what's next for your new team lead? One way to secure some strong leadership skills is through hospitality management training, which can get a new manager up to speed. Plus you're giving them something to add to their resume.
CHT has hospitality management training courses that can be completed within 6-12 months. These courses teach essential leadership skills including operational planning, client relationships, communication, and more.
For more information enquire with CHT on (03) 9654 1554.