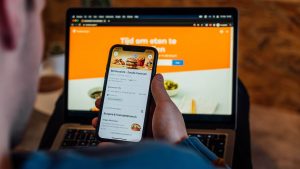 With Covid-19's impact on the hospitality industry, it's more important than ever to explore new ways to maintain the successful running of your restaurant.
The best way to keep the orders rolling in? Moving your restaurant online.
A majority of businesses will have adapted to options for delivery and takeaway, but if you haven't made the move yet, here's how to ensure a seamless food delivery experience for you and your customers.
Choose the right ordering system 
The first thing you'll need to start serving online is the right ordering system. You have a few options here.
1. Food delivery marketplace
Uber Eats, Deliveroo, Door Dash – you've probably ordered from one or more of these apps in the past. When you sign up for a delivery service you're partnering with a business to connect your restaurant with your customer. For delivery, you're using external drivers who have signed up with the app to earn money.
The great thing about these platforms is the ability for restaurants to easily start making sales without investing in internet marketing. However, they do come with a hefty fee for the service.
2. POS Add-on
You're using a POS system to take orders in your restaurant, but you can also use a POS extension that will connect your system to online food orders. Many customers prefer to order directly from a business, than use a third party, and as a business you aren't losing profits from a platform fee.However, if you don't have a significant presence or reputation, you do need to invest a little in digital marketing so new customers can actually find you.
3. Building your own
Finally, there are available platforms that let you set up your own online ordering system. This means you don't override your entire POS system, and you get to maintain your own branding throughout the customer ordering experience. Though it's a more expensive option, it does give you a level of autonomy in your marketing and business branding.
Train and upskill your staff
You don't want to start using a new software without staff versed in its usage. Before you transfer over to an online process, make sure all staff know how to take an order, work with drivers and use the system effectively. A team training session will ensure everyone is on the same page.
Communicate to customers with your socials
Make sure to announce to your followers if you're taking online orders, but also use it to communicate opening hours, delivery options and your takeaway menu. If you don't have a social media account already, it's time to set one up.
Embrace the benefits of digital
We can't predict changes in hospitality, but we can ensure that we're set up to continue serving our customers. Keep serving your customers even during lockdown, set your business up online today!
CHT is currently offering infection control training to maintain the health and safety of your customers and staff and prevent the spread of Covid-19. Find out more here.