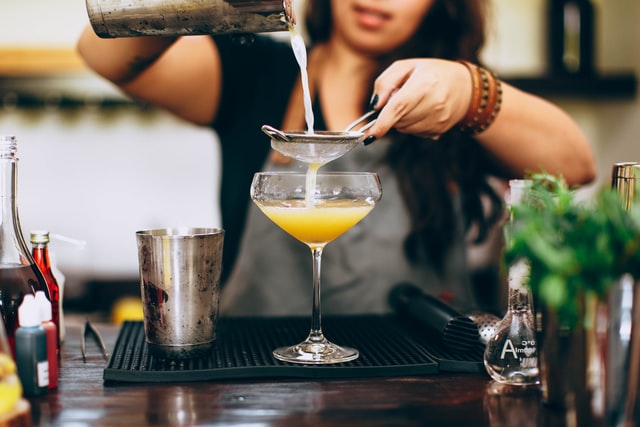 Pouring is an important part of bartending. It is what you will be doing most of time behind the bar. From pouring beer and standard mixers, through to mixing classic and complicated cocktails. But there are many more elements to being a bartender, and a bartending course that only teaches you to pour is not properly preparing you for your first bartending job. At Complete Hospitality Training (CHT) we don't only ensure that our courses meet the standards regulated by the Australian Skills Quality Authority (ASQA). We also ensure that they equip you with the skills required by employers throughout the hospitality industry. Which is why our bartending courses teach more than just how to pour.
Customer Service
Great bartenders are not only skilled professionals at mixing and pouring drinks, but they also show a superior level of customer service. And while empathy, friendliness, charisma, and a healthy dose of extroversion are great to have, there are other aspects to customer service too. And a good bartending course will include this. Whether it is polishing your people skills or teaching you the basics of time management and suggestive selling.
Opening and Closing Procedures
The fun side of bartending is undoubtedly pouring drinks and interacting with a truly diverse mix of customers. The less fun side would be opening and closing procedures. From cleaning and checking everything, to dating and storing perishables safely. It isn't complicated and can be structured as a routine. But it is a critical component to successful bartending, as it prepares everything for the next day. You can learn the routine on the job but knowing what needs to be checked and prepped–and why–is best learnt beforehand.
Handling Cash
All bars are different, so while some might mainly process card payments, others will have patrons paying mostly with cash. Either way, a typical shift will see you having to process cash transactions, so you will need to know how to both handle and manage cash safely and correctly.
Responsible Service of Alcohol
Nobody can work with alcohol in a public setting without holding a valid and current RSA certificate. And it would be irresponsible for any training provider to offer a bartending course that doesn't include RSA training, with an accredited Statement of Attainment and RSA certificate issued upon successful completion. Otherwise, you can't put any of your training into practice without first completing another training course.
With our bartending courses, we make sure you know the basics of bar operation, along with giving you practical exposure to mixing all manner of cocktails. We also cover the essentials of pouring both alcoholic and non-alcoholic beverages, including wine service and handling beer reticulation systems. Start with the Bartending Foundations course for an introduction to the skills required of a bartender. And then enrol in our four session Bartending Course, which builds on the foundation training with more practical skills and sees you being better prepared for employment as a bartender. Successfully completing both courses will see you issued with both a Responsible Service of Alcohol certificate and a nationally recognised Statement of Attainment.