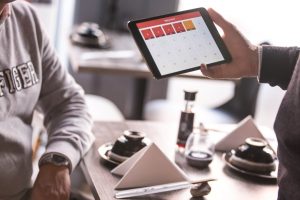 Tackle the tedious task of rostering your staff with the right planning. Here are a few steps to consider when optimising your rostering and time management.
Rostering software
Fortunately you don't need to crunch numbers on your own. Rostering software makes it easy for you to test timetables, assess availability and look back at previous rosters instantly. It'll also reduce the risk of human error.
Start with your budget
Rostering is a part of your costs of goods sold, so it should be considered when preparing a timetable. While you don't want to understaff just to save money, you also don't want to overstaff, so take a look at your business's performance and align that with a rostering budget.
Know the roles and what you need to fill shifts
Chances are you've got different jobs for different tasks, and you'll want to make sure you've got staff that can perform every essential job needed to keep things running. Before you start putting numbers and names to the roster, establish exactly what jobs you'll need for the work. Then you can start determining who can fulfil those jobs and how many are needed.
Roster templates 
Availability can change, and public holidays, booked leave, etc. will mean adjustments are necessary. But to streamline the process each week, create a templated roster that you'll be able to consistently implement. This way, it's more about moving things around, instead of completely redoing a roster each week.
Pair demand with experience
If you have team leads and experienced staff available during peak hours, prioritise them in the roster. Try to select staff that you trust to fill each day so that, if you're not available, you know the business will keep running.
Set deadlines for leave and unavailability 
To prepare for any unavailable staff make sure that all leave is requested at least two weeks prior. This will give you time to adjust the standard template.
POS and timesheet data to guide your decisions
How has your business performed in the past? And how does this pair with the roster? Timesheet data is a great way to inspect how much money you're making compared with COGS, as well as other key measurement metrics. You might find you need to add more staff on certain days, or keep other days to just the core team members.
Talk to the team 
There's no point setting up a rostering schedule if staff aren't available. Before you start planning out any rostering routine you'll want to know everyone's availability. Then, factor in seniority and the necessary roles with availabilities.
Whether you've been running your business for years or starting up your first local café, there are countless elements to hospitality. CHT offers detailed training courses that teach you about hospitality management, as well as skills like serving alcohol (RSA certified), preparing coffee, infection control and more. For more information enquire with CHT on (03) 9654 1554.